Innovations in Pipe Conveyor Technology
With the ever increasing use of pipe conveyors as an acceptable form of bulk solids transportation, especially when environmental, operating and maintenance costs are of primary importance, has come the added advantage, of suppliers breaking new ground in the innovation stakes.
Conveyor Knowledge and Information Technology cc. - (Conveyor Kit) (previously Conveyor Dynamics South Africa), Bedfordview, Republic of South Africa is one such company striving for the centre stage.
Conveyor Kit, fresh from its success as the primary consultants of the 3.2 km Pipe Conveyor at Bharuch in India, (featured in bulk solids handling Vol. 19 (1999) No. 4, pp. 532-534 in an article by the principle contractors Naveen Projects), have embarked on an innovative education programme.
The programme is aimed at the promotion of the pipe conveyor as a primary bulk solids handling system.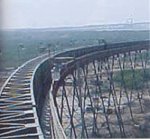 The pipe conveyor
For too many years the pipe conveyor has been kept under wraps by not allowing dynamic engineering companies access to its unique design features.
With these shackles finally being removed in the early 1990s many large successful installations have been developed and the limits in belt length, profile and capacity are far from ex
hausted. A number of innovative companies are now perfecting ways of making the pipe conveyor even bigger and larger, utilising exciting structural innovations to make them even more competitive, when compared to the conventional conveyor.
Conveyor Kit being one such company has developed a web site (www.pipeconveyor.com) aimed at educating clients and removing the concerns from the industry in the use of these systems. Presently the site does not attempt to undertake the total design, (however this facility will be made available on demand).
Idlers holding the pipe in shape
The web site also gives a detailed history, plus layout parameters and basic controls to enable the engineering of a system. It further removes the stigma associated with belt training by giving details of procedures used, and highlights some of the excellent papers written around case studies on the subject.
The company's ultimate aim is the elimination of the transfer point. This will be the primary objective of all materials handling designers thereby allowing pipe conveyor, with the assistance of innovation and the website, to take its rightful place in the materials handling industry.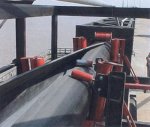 Idlers forming the pipe shape
Conveyor Knowledge & Information Technology
Tel.: +27 11 452 7347
Fax : +27 11 452 7386
E-mail: cdisa@icon.co.za